From the ASPCA website:
Approximately 6.5 million companion animals enter U.S. animal shelters nationwide every year. Of those, approximately 3.3 million are dogs and 3.2 million are cats. We estimate that the number of dogs and cats entering U.S. shelters annually has declined from approximately 7.2 million in 2011. The biggest decline was in dogs (from 3.9 million to 3.3 million).
Each year, approximately 1.5 million shelter animals are euthanized (670,000 dogs and 860,000 cats). The number of dogs and cats euthanized in U.S. shelters annually has declined from approximately 2.6 million in 2011. This decline can be partially explained by an increase in the percentage of animals adopted and an increase in the number of stray animals successfully returned to their owners.
Approximately 3.2 million shelter animals are adopted each year (1.6 million dogs and 1.6 million cats).
About 710,000 animals who enter shelters as strays are returned to their owners. Of those, 620,000 are dogs and only 90,000 are cats.
These numbers are truly shocking.
Statistics and definitions give us a way for measuring results and comparing what we do and how well we do it from one year to the next.
Azrael's reasons to publish our yearly statistics are:
to provide our supporters and public with a transparent way of looking into our operation

to provide us with a measuring tool which will help guide us in our development

to join the animal welfare organizations around the country in the push for better animal laws and more transparency.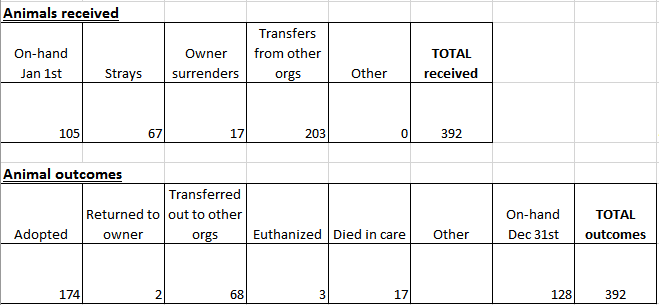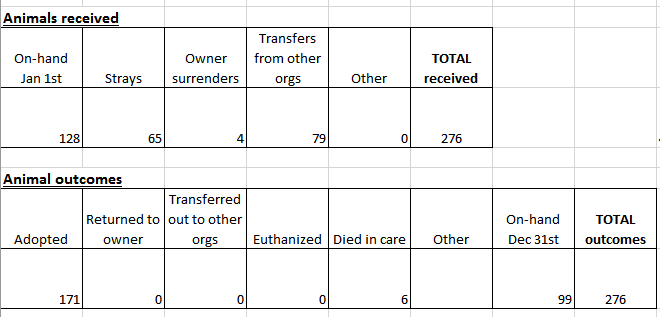 Azrael's Place goal for 2018 is to adopt 300 cats utilizing our future adoption center. That is a 75 % increase in adoptions.