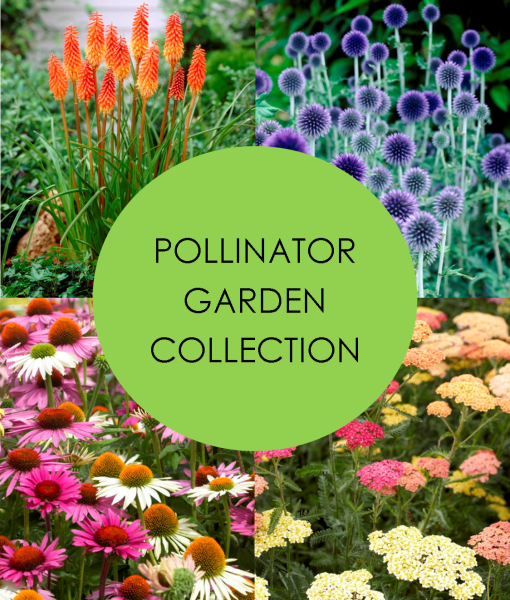 POLLINATOR GARDEN COLLECTION GIVEAWAY
Hummingbirds, Bees and Butterflies will become frequent visitors when you add the Pollinator Garden Collection to your landscape. We would like to say THANK YOU for entering our giveaway contest. Below are some of the details to make sure you give yourself the bets possible chance to win this prize for your family!
Our Pollinator Garden Collection winner will be drawn on May 20, 2017.  

See Official Rules for more details.

The Winner will be announced on our Facebook Page on the day of the drawing!

This collection includes a unique mix of height and color with Torch Lily, Cone Flower, Yarrow and Globe Thistle. Blooming will last throughout the summer and your entire garden will thrive when beneficial pollinating insects and birds start to come around! The collection consists of 16 Bare Roots - 5 Torch Lily, 5 Cone Flower, 3 Yarrow, & 3 Globe Thistle

Look out for our emails which will contain more tips and info on Azrael's Place!

Sharing on social media is very appreciated!... we want to spread the word about our site and about Azrael's Purrfriends!
If you haven't done so already make sure to post on your Facebook page the following message (so your friends and family can enter!)… Just copy and paste the below message to your Facebook wall!
I just entered the Azrael's Place Pllinator Garden Collection Contest! You can too! Just visit them here 
Don't miss out! The easiest way to know if you won the prize is to be connected with us! Here's how you can connect with us right now –
•Become a Facebook Friend (if you're not already) – Become Our Friend Click Here
All these things will increase your chances of knowing if you win the PRIZE and help you stay connected with us for additional offers!